We are thrilled to once again be at PDAC, the Prospectors and Developers Association of Canada's convention, for its 2020 edition! This year's event is being held from March 1 to 4 at the Metro Toronto Convention Centre. It brings together stakeholders and experts from the mineral exploration industry and features a tradeshow along with technical sessions, short courses and networking events among its many activities. More than 1,100 exhibitors, 2,500 investors and 25,800 attendees from 132 countries will be participating, proving that this is THE industry event of the year.
InnovExplo's experts at booth #239
We are looking forward to this event! Our experts, Alain Carrier, Denis Gourde, Carl Pelletier, Christine Beausoleil, and Gustavo Durieux, will be there to meet you, explain our vast expertise and experience, answer any technical questions you may have and discuss how they can meet your mineral exploration and mining needs!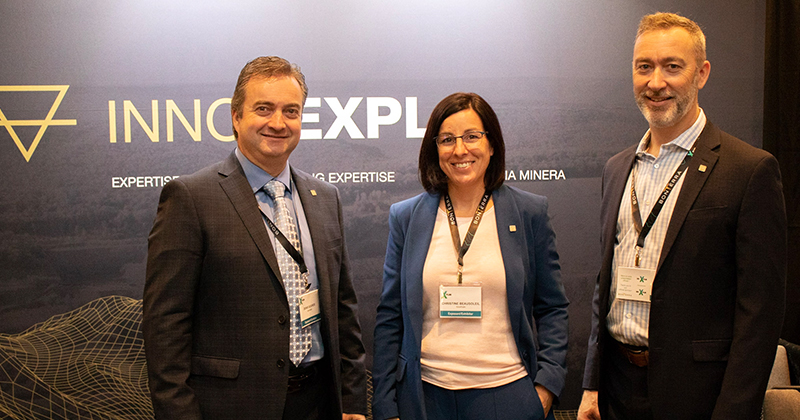 An extensive range of services
InnovExplo's expertise covers a wide range of specialized services. Our experts are there for you; they're eager to put their experience and expertise to use to help you plan, prepare and complete your project. Take a look at some of our statistics to learn about InnovExplo at a glance:
DID YOU KNOW THAT?
In 17 years, InnovExplo has worked with 170 clients (junior exploration companies and mining producers), completed over 450 different mandates or studies, conducted multiple geological and engineering studies and has gave environmental and sustainable development support in many projects.
InnovExplo ranks among the World TOP 25 firms for resource statements for all regulations combined (NI 43-101, JORC, SAMREC, etc.).
Between 2004 and 2019, InnovExplo's NI 43-101 technical reports pertained largely to geology (±65%), mineral resources estimates (MRE) and exploration and early development projects, and to economic studies (±35%), either for open pit or underground scenarios, from preliminary economic assessments (PEA), pre-feasibility (PFS) to feasibility studies (FS).
By 2019, we had completed a total of 161 NI 43-101 studies principally as the main author or banner firm, and as co-author or in partnership with other firms.
Our clients are primarily junior advanced exploration companies (±60%), followed by producers (±30%), junior exploration companies and other companies (±10%).
InnovExplo works worldwide with ±35% of its revenue earned from Québec, ±35% in the rest of Canada and another ±30% internationally —we have worked in 16 countries across 4 continents.
A selection of our recent and/or current major projects include:

Agnico Eagle – Goldex and LaRonde (QC),
Agnico – Yamana JV – Canadian Malartic (QC),
Ascendant – El Mochito (Honduras),
Ascot – Premier and Red Mountain (BC),
Barkerville – Cariboo (BC),
Barsele – Barsele (Sweden)
Cartier – Chimo (QC),
Eldorado – Lamaque (QC),
Iamgold – Nelligan, Rouyn and Westwood (QC),
Monarques – Fayolle, Swanson and McKenzie Break (QC),
Newgold – Rainy River (ON),
Newmont – Borden (ON),
Nighthawk – Indin Lake (NWT),
Radisson – O'Brien (QC),
Semafo – Mana (Burkina Faso),
Vanadium Corp – Lac Doré (QC),
Wallbridge – Fenelon (QC),
Yamana – Jacobina (Brazil).

Our geological services extend from exploration programs, target generation, database management, structural geology, geochemistry, 3D model, litho-structural model, mineral resource estimates (MRE), grade control and reconciliation to fair market value.
Our mining engineering services extend from rock mechanics, ventilation, mine design for both underground and open pit scenarios, trade-off studies, cost estimates, optimization, production plan, to economic studies (PEA, PFS and FS).
Our sustainable development services extend from TSM support and audit, gap analysis, permit and authorization, management system, closure plan, tailing pond management manual, to Ecologo support.
See you at PDAC 2020!
Make sure to stop by booth #239 at PDAC 2020, which is being held from March 1 to 4 at the Metro Toronto Convention Centre. Come meet our team of experts, who can't wait to discuss our services with you. See you there!
WHERE?
Metro Toronto Convention Centre, Toronto, Ontario, Canada
WHEN?
March 1 to 4, 2020
WHY?
To discover the multitude of services offered by InnovExplo's team of experts.
Sources: